HY-205-V0 Optische analoog HDMI VGA converter
HY-205-V0 Optische analoog HDMI VGA converter Inleiding
HY-205-V0 HDMI-naar-VGA converter met SPDIF en analoge audio-uitgang zijn ontworpen om A / V apparaat te gebruiken meer handige, comfortabel, producten en kostenefficiënt te maken. De HDMI converter kan een ingang HDMI signaal in een VGA analoog videosignaal en een digitaal geluid of een analoge audio-uitgang. De HDMI-poort kan worden aangesloten op een standaard HDMI signaalbron inrichting (zoals de DVD speler, PS 3, S Xbox 360, STB, PC), de VGA-uitgangspoort te sluiten op apparaat weer te geven (TV / monitor / projector) . De SPDIF / audio-poort kan de uitgang van een hoge kwaliteit geluid om een av surround versterker.

Onze apparaten bieden oplossingen voor home theater, tv-verkoop tentoonstelling, datacenter controle, informatieverspreiding, conferentieruimte presentatie, school en bedrijfstrainingen omgevingen.
HY-205-V0 Optische analoog HDMI VGA converter Kenmerken
Eén HDMI ingangssignaal omzetten naar een VGA + SPDIF of een VGA + analoge audiosignaal.
Ondersteunt HDMI-ingang: 480P / 720P / 1080P @ 60Hz.
VGA uitvoerresolutie verandert automatisch de invoerresolutie: 640 x 480 bij 60 Hz, 800 x 600 bij 60 Hz, 1024 x 768 bij 60 Hz, 1280x 720 60Hz, 1280 x 768 bij 60 Hz, 1280 x 800 bij 60 Hz, 1280 x 1024 bij 60 Hz , 1360 x 768 bij 60 Hz, 1600 x 1200 @ 60Hz, 1920x 1080 @ 60Hz,
De bijbehorende HDMI-resolutie:
HDMI-ingang: 480P 720P 1080P
VGA-output: 640 x 480 bij 60 Hz 1280 x 720 bij 60 Hz 1920 x 1080 bij 60 Hz
Ondersteunt DTS / AC3 ​​/ LPCM / PCM digitale audio-uitgang, Ondersteuning 5.1ch.
Ingebouwde digitale audio decoder kan LPCM / PCM digitale audio in analoge stereo-uitgang te decoderen.
Lage kracht digitale single chip oplossing, minder warmte en langdurige stabiliteit.
Gemakkelijk te installeren en automatisch Controleer het ingangssignaal.
Geen extra voeding nodig.
HY-205-V0 Optische analoog HDMI VGA converter Specificaties
HDMI standaard ................................................ .................. HDMI 1.4b
HDCP standaard ................................................ .................. HDCP 1.4
HDMI-resolutie .......................................... 1080P / 720P / 480P @ 60Hz
Ondersteuning tot VGA .............................................. .1920 x 1080 @ 60Hz
Ondersteuning van audioformaat ............................... DTS / Dolby-AC3 / PCM / LPCM
Maximale bandbreedte ................................................ ..................... 165Mhz
Input / Output TMDS-signaal ........................................ 0.5-1.5Vp- p (TTL)
Input / Output DDS signaal ............................................. ...... 5Vp-p (TTL)
Ingangskabelafstand ..................... ≤15m AWG26 HDMI standaardkabel
Uitgangskabelafstand ................................. ≤15m VGA-standaardkabel
Max werkstroom ............................................... ................ 360mA
5V DC specificaties ............................................... ........... 5V / 500mA
Bedrijfstemperatuurbereik ...........................................- 15 tot +55 ℃
Bedrijfsvochtigheidsbereik ..................... 5 tot 90% RH (Geen condensatie)
Afmeting (L x B x H) .......................................... .... 69X64X25.5 (mm)
Gewicht................................................. .................................... 100g
Certificaten CE, FCC en RoHs

Optische analoge HDMI VGA Inhoud converter Package
1. HDMI naar VGA converter x1
2. Audio kabel x1
3. Micro USB-kabel x1
4. Gebruikershandleiding x1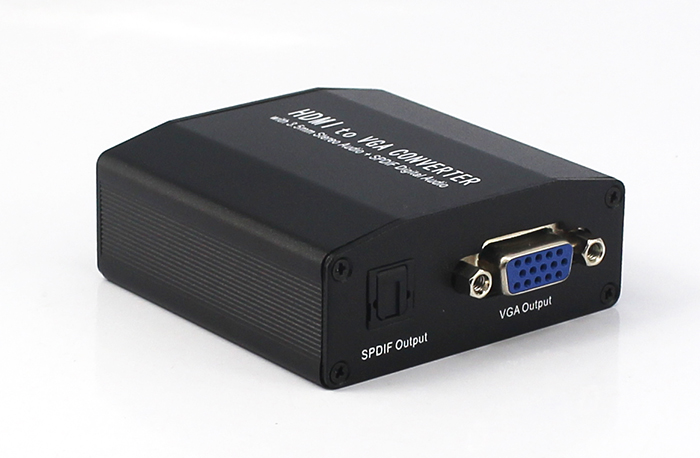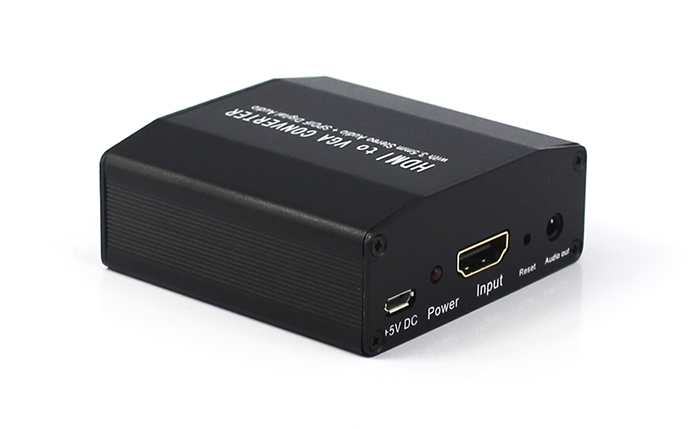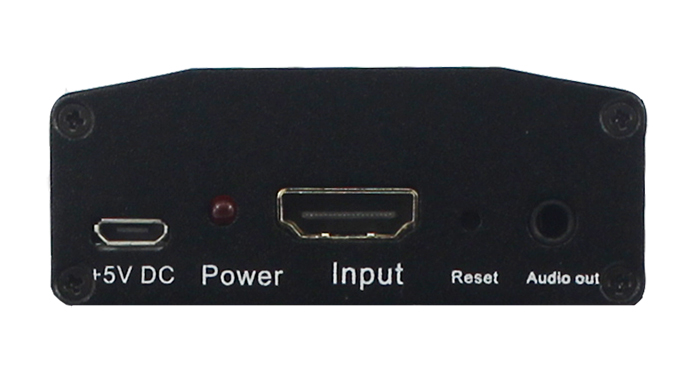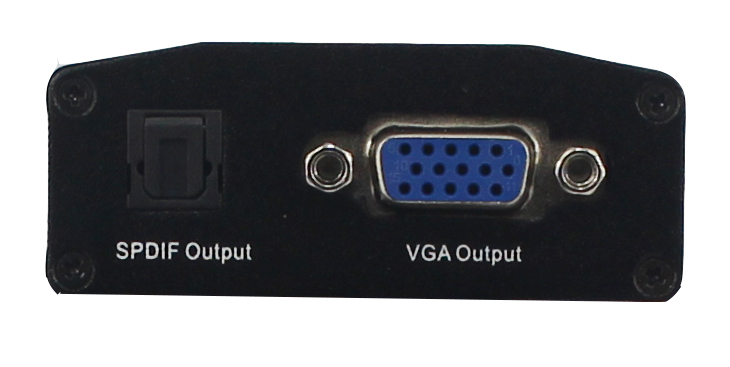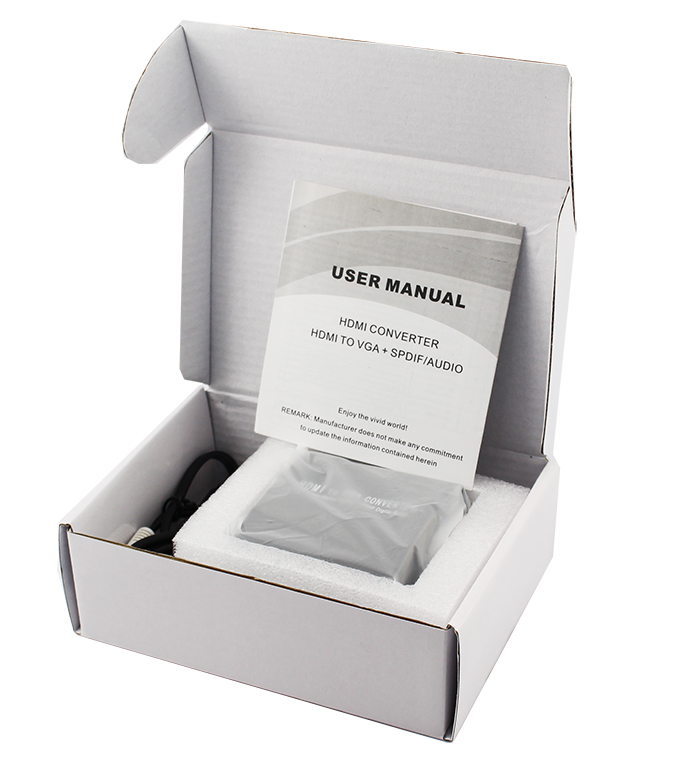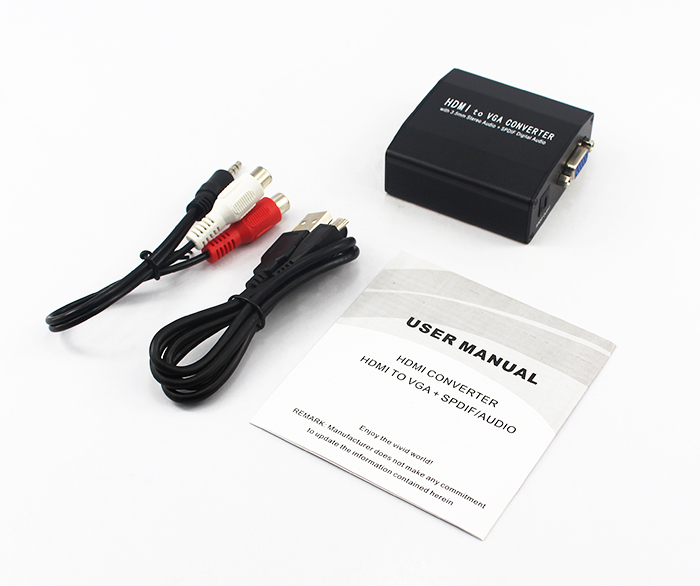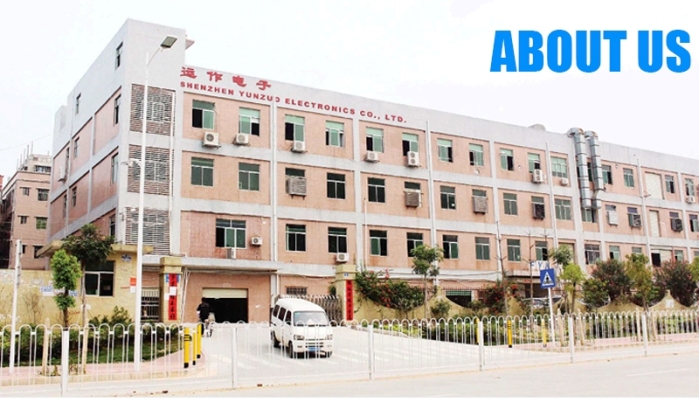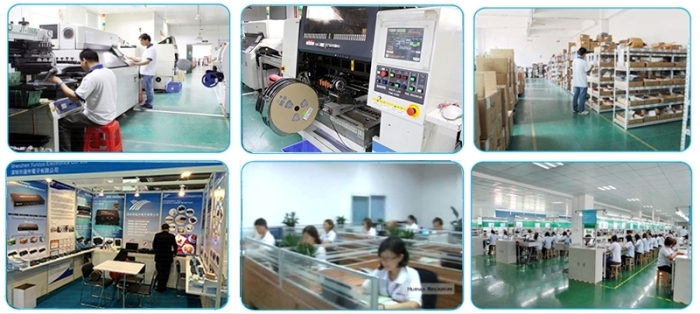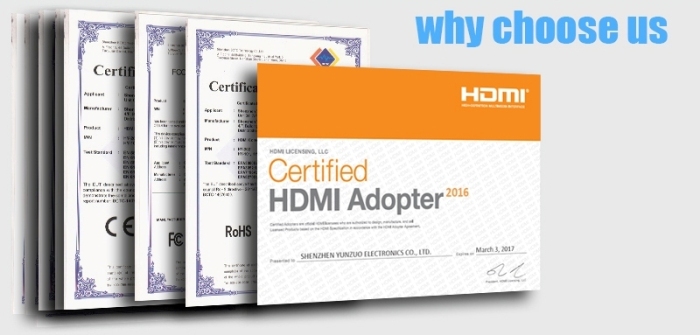 Product Categorie : HDMI Converter